This system combines our Heavy Duty M-715 Monitor, DN-2HD Camera and 20M AV extension Lead.
KEY FEATURES OF THE MONITOR
7.0 inch Colour Digital wide-screen LCD panel
Slim-line soft touch casing
Choice of 3 mounting fixtures: Pedestal, U-bracket, Flush mount
Trigger wires for auto switching of individual cameras
Selectable Reversing Grid
Picture adjustable in horizontal, vertical and mirror view
Snap on sun visor
Back light for night viewing – automatic button illumination
Type Approved
All materials and PCB production conform to RoHs standard. CE approved
Remote Control
Waterproof AV connectors on Monitor
KEY FEATURES OF THE DN-2HD CAMERA
This is a type approved 720P resolution camera designed for the toughest environments, yet still providing the perfect solution for many different vehicles types.
For over a decade Vision UK has been supplying camera chips sets in the DN-2 housing. This housing has evolved over time and has consistently proven to be the most durable camera housing that we have ever supplied.
This camera features  4 x light sensor activated CREE LEDs that provide this camera with excellent night vision performance.
Other useful features include a built-in microphone, normal/ mirror image selection screw and an electrically isolated stainless steel mounting bracket.
For driver information purposes a 720P chip set provides better clarity than a traditional analogue camera and the resolution is ideally matched to the Vision 7″ Monitors. For Recording applications the 720P Chip Set often provides the best compromise between image quality and file size.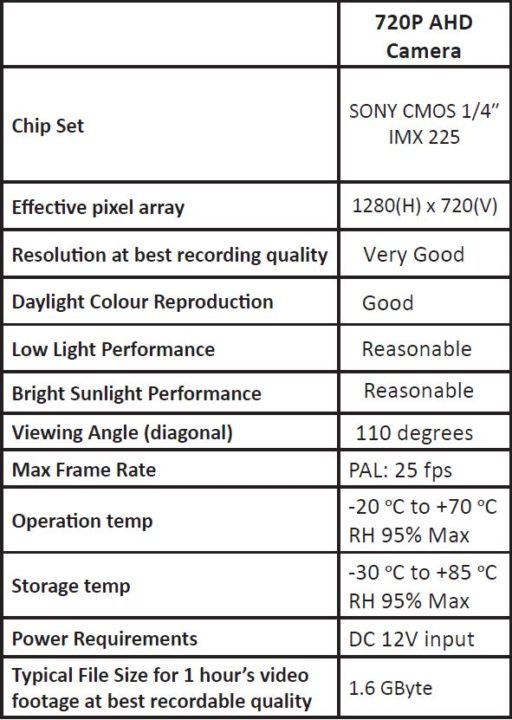 Please note due to continued product development the specific chip set used with this camera may have changed from the one indicated but the fundamental characteristics of the camera remain the same.